Best snowboard helmets are one of the most essential components when it comes to snowboarding. It doesn't only prevent brain injuries and keep your head protected; it also makes you look really cool with style!
According to the statistics, helmets reduce the risk of head injuries by 35% when snowboarding and skiing. In addition, a snowboard helmet protects your head from serious injury if other backcountry skiers or snowboarders crash into you or you run into anything. A snowboard helmet also helps to avoid neck problems. Finally, it keeps you confident on the slopes!
Moreover, helmets are good to headgear for snowboarding because it is generally warmer than a usual hat. It prevents brain freeze, and you won't have the exercise headache due to sustained, vigorous activity in the cold air.
Snowboard helmet also keeps your ears and head warm, make it harder to lose your goggles in a crash, and make your head more comfortable and secured.
We are concerned about your safety and preference. Therefore, in this article, we've brought the top-rated ski and snowboard helmets so that you can pick out which one works for you! As the helmet is one of the most critical components of snowboarding, you can make your snowboarding experience more wonderful with the help of this article.
Don't waste time and check out the helmets we've provided for you. Be happy choosing the perfect snowboard gear for yourself, and thank us later!
The Best Snowboard Helmets Reviewed: Our Top Picks
We've accumulated the high-quality helmets so that you don't have to worry about which snowboard helmet you should buy. You can simply read this article out and go for the one which suits perfectly with your preference. No more asking for help here and there, no more being in confusion!
This article will help you out to select your most wanted ski or snowboard helmet. With our extensive research and market review, you will find choosing your special snowboard helmet easier and smoother in the perfect way you could ever imagine!
Wildhorn supplies to the US Ski Team and is a snowboard helmet sponsor for 4x Olympian Ashley Caldwell, a world champion freestyle aerialist. She's the first female ever to land a quadruple-twisting triple backflip. The Drift is her preferred ski helmet for freeskiing and snowboarding.
This snowboard helmet is shredded in style with the ergonomic design, unparalleled performance, and comfort of the Drift snowboard helmet. In addition, this helmet is 25% lighter than most competing products.
This snowboard helmet is lightweight and packed with high-end features. Wildhorn Outfitters Ski Helmets Drift accommodates different ski goggles and head shapes for a custom fit free of a dreaded gaper gap for men, women, and youth.
Wildhorn Outfitters Ski Helmets Drift is one of the most comfortable snowboarding helmets you'll be hard-pressed to find. The ultra-plush interior liner of this ski helmet provides maximum comfort and insulation.
Wildhorn Outfitters Ski Helmets Drift's earpads are audio compatible and can be removed on warmer ski days. The Drift also features a Fine Tune Adjustment (FTA) system that offers micro-adjustments for the flawless fit.
Wildhorn Outfitters Ski Helmets Drift features their VNT technology which is a patented adjustable temperature control ventilation system. This snowboard helmet has 13 fully adjustable vents. The vents put you in control, slide open to cool off, and slide closed to keep in the heat.
Wildhorn Outfitters Ski Helmets Drift is made using advanced manufacturing techniques. The outer PC shell of the helmet is fused to the inner EPS foam, creating an in-mold construction. That construction allows the foam to absorb the shock from an impact. This snowboard helmet meets ASTM F2040 and EN1077 standards.
Pros
Ergonomic design
Lightest helmet
Custom-fit
Ultra-plush interior liner
Different head shapes
Audio compatible & Removable earpads
Fine Tune Adjustment (FTA) system
VNT technology
13 fully adjustable vents
Meets ASTM F2040 and EN1077 standards
Cons
The goggle holder might fall off
Final Verdict
You can go for Wildhorn Outfitters Ski Helmets Drift snowboarding helmet if you prioritize comfort over anything. In addition, this super comfy snowboarding helmet will give you maximum satisfaction while snowboarding. It will save you even if a rock falls on your head!
VANRORA ski helmet's durable construction is made from a high-impact outer shell and impact-absorbing EPS Liner. The impact-resistant ABS and shock-absorbent EPS foam ensure your safety in multi-purpose sports like skiing, snowboarding, snowmobiling, and ice climbing.
Get snug and comfortable fit effortlessly with one turn of a dial on the back of the VANDORA ski helmet. By turning the dial, you can customize the tightness that fits your head and maximize the comfort of your head.
The goggle strap on the back helps to keep your goggles attached all the way securely while snowboarding.
VANRORA ski helmet's detachable fleece interior liners and thick earpads let you customize how much warmth you need and provide extra comfort. They can be washed easily, sweat & odor-free. In addition, you can wear the helmet with them in cold weather.
VANRORA ski helmet has adaptable venting systems on top. It has ten fixed vents, six of which have adjustable capabilities. The ventilation allows for excess heat and moisture to escape out, fine-tunes your airflow level to fit your needs and weather conditions so that you can enjoy an all-day comfort snowboarding with the push of a sliding mechanism easily.
This helmet is ASTM F 2040 and CE EN 1077 certified. It is one of the finest helmets for snowboarding and skiing today in the market.
Pros
High-impact outermost shell construction
Impact-resistant ABS
Stock absorbent EPS foam
Impact-absorbing EPS liner
ASTM F 2040 and CE EN 1077 certified
Customize fit with dial
Goggle strap on the back
Detachable fleece interior liners
Thick customized earpads
Washable, comfortable, sweat & odor-free earpads
Adjustable climate control system
Excess heat and moisture escape out
Fine-tunes airflow level
Cons
Might have slight problems in sizing
Final Verdict
You can trust the VANRORA ski helmet blindly as your strongest companion while snowboarding because the customers have highly rated this helmet. This helmet is amazingly fit, extremely comfortable, super handy, and full of premium features. This is pretty much everything you could ask for in your snowboarding helmet!
TurboSke ski helmet has undergone intensive safety tests. As a result, it fully complies with USA ASTM F-2040 safety standards for helmets used in winter sports such as skiing, snowboarding, other snow sports, etc. 
The size adjustment dial of the TurboSke ski helmet always gives you a snug fit, no matter what your head shape. It comes in 3 sizes: S: 51 – 55 cm (20 – 21.65 inches), M: 55 – 59 cm (21.75 – 23.25 inches) and L: 59 – 63 cm (23.25 – 24.75 inches).
Instead of the typical 'old school' way of gluing or bolting a shell to the inner foam protection layer, this snowboard helmet fuses the external shell with the impact-absorbing EPS liner, which makes helmets more durable, better ventilated, and lighter.
TurboSke ski helmet's ventilation system is designed to promote airflow through the entire space of the helmet and the goggles. In addition, its earpad is designed with an audio storage slot comparable with all aftermarket helmet audio systems.
TurboSke ski helmet is lightweight and durable that stands up to everyday use. The earpads and the inner lining are removable and washable. You can wear the helmet with ear pads in cold weather and without them in warm weather or for wearing beanies.
The ventilation of the TurboSke ski helmet provides sufficient airflow to keep you airy, and the goggle ventilation channel makes sure that your goggles won't fog up either. The earpads and liners are lined with a classic fleece, which keeps you cozy and comfortable.
The size dial fit system of the TurboSke ski helmet lets you throw the helmet on, and it will fit perfectly every time.
This snowboard helmet's premium design removable padding is comfortable and supportive, and it will still be comfortable after hours wear on.
Pros
Lightweight option
Durable
Low price
Cook and sleek design
Very comfortable
Complies with USA ASTM F-2040 safety standards
Impact-absorbing EPS liner
Air flowing integrated ventilation
Keeps the goggles fog-free
Audio system compatible earpads
Audio storage slot on earpads
Removable and washable ear pads and inner lining
Size dial fit system
Cons
Final Verdict
Designed as an all-purpose ski helmet, the TurboSke ski helmet is full of high-end features. It boasts an excellent, sleek design that works anywhere. It is a great helmet for everybody who values protection, style, durability, and comfort!
Giro ledge snowboard helmet comes in size S (52–55.5cm) and size L (59-62.5cm). Giro's hardshell construction produces great helmets at a great value. A rugged outer shell is formed and then attached to the EPS foam liner in giro helmets.
Giro helmet's removable auto loc 2 fit system is a durable self-adjusting fit system that is designed to take the hassle out of proper fitting of a helmet. The supple, elastic fit band at the back of the giro helmet merges with fixed-position straps.
The straps of the Giro Ledge Snow Helmet adjust to cradle your head when you set the system to one of the 3 different circumference settings. In addition, the new on-the-fly vertical tuning feature of the Giro helmet helps to dial in your fit and goggle set up without removing your helmet.
Stack Vent in the front of the Giro helmet aligns with your goggles and helps to keep them clear and fog-free. Giro Ledge Snow Helmet's super cool vents on the top allow the hot air to escape. It also has removable ear pads and a removable goggle retainer.
Giro helmet's products have been meticulously designed and tested to work together. They've fine-tuned the pairings of their helmets and goggles using exhaustive testing in their dome R&D center. They have been translating those findings into the perfect seamless compatibility fit. 
Pros
Hardshell construction
Well designed
Lightweight
Removable Auto Loc 2 fit system
Supple, elastic fit band
Fixed-position straps
Vertical tuning feature
3 different circumference producing straps
Stack Vent
Goggle strap clip
Goggles fog free
Great goggle compatibility
Super cool vents
Removable goggle retainer
Cons
Does not have a MIPS system
Final Verdict
Giro Ledge Snow Helmet should be your first priority if you prefer size, quality, lightweight, and solid construction over everything! It's a low-profile helmet with a great fit- that too in your budget! It is also far cheaper than its counterpart in the Giro Grid MIPS helmet.
The solid combination of premium EPS foam (made in the USA) and high-impact ABS shell of the VELAZZIO Valiant Snowboard Helmet provides more durable protection against everyday knocks, abrasions, and falls. The snowboard helmet is ASTM F 2040 and CE EN 1077 certified.
VELAZZIO Valiant Snowboard Helmet's dial-button at the back customizes your fit, and adjustable climate control offers all-day comfort regardless of weather conditions. Its plush-padded fleece lining is easily removable to wash and free of sweat or unpleasant odor. When assembled, they provide extra cushion and keep your ears warm on cold days.
VELAZZIO Valiant Snowboard Helmet's dial-button at the back customizes your fit with adjustable climate control. It is a very lightweight helmet, and it won't add any burden to your head. You can use this snowboard helmet for multi-purposes like skiing, snowboarding, snowmobiling, ice climbing, and winter skateboarding.
VELAZZIO Valiant Snowboard Helmet's earphone space is designed within the ear pads so you can enjoy your favorite music while snowboarding. With the turn of a dial, you even get fine-tuning adjustability to make sure your helmet fits as snuggly and comfortably as possible.
The goggle loop on the back of the VELAZZIO Valiant Snowboard Helmet snaps down to hold your goggles, not going anywhere even during the worst fall. There will be no gap between your helmet and the top of the goggles. The goggles loop on the helmet keeps your goggles in place while snowboarding or skiing .
Pros
Solid construction
Premium EPS foam
High-impact ABS shell
Durable protection
ASTM F 2040 and CE EN 1077 certified
Customized fit
Adjustable climate control
Plush-padded fleece lining
Removable, sweat and odor-free lining
Audio compatible earpads
Fine-tuning adjustability
Goggle loop on the back
Cons
Ear coverings might not snap in easily
Final Verdict
The customers love VELAZZIO Valiant Snowboard Helmet for its highly flexible design with sufficient comfort and fantastic features. This snowboard helmet might be worth every penny of yours for backcountry skiing!
Smith has been crafting and selling top helmets for over 50 years. They were pioneers in advancing products and pushing boundaries to fuel fun beyond walls. They design helmet gear where every detail makes a difference, and you get the top quality.
Smith helmets are one of the most renowned helmets in snowboarding. Smith snowboarding helmets can be used for multiple purposes like snowboarding, skiing, and cycling.  
The outer material of the smith helmet is built with Acrylonitrile Butadiene Styrene. Unlike the Smith Vantage MIPS model, It comes in small size and black color.
Smith Snowboarding Helmet has created a dramatically new approach to ventilation and protection in helmets through the use of Aerocore technology. Smith helmets seek to power thrilling experiences and peak performance in snowboarding with a comprehensive collection that exudes modern style and vibrant personality.
Smith Snowboarding Helmet has an attractive and stylish design with upgraded interior safety features and liners. Timeless in appearance, this helmet holds the standard in freestyle skiing and snowboarding. Each size of the Smith Snowboarding Helmet can accommodate a wide range of sizes.
Like Smith Mission helmets, these snowboarding helmets have excellent padding, and the helmet itself is light on your head. In addition, the vents of the smith helmet keep your head cool, especially during the spring.
The perfect goggle fit mostly attracts customers as the smith helmet provides the right amount of space for the goggles to fit nicely. Smith Snowboarding Helmet also provides vents above the goggle space, preventing them from fogging up.
Pros
Cool design
Acrylonitrile Butadiene Styrene outer material
Aerocore technology in ventilation and protection
Power thrilling experiences
Upgraded interior safety features and liners
Well-padded
Lightweight on the head
Easy to use the chin strap
Removable ear pads
Perfect goggle compatibility
Fog-free goggles
Cons
Heavier than Smith Vantage MIPS Model
Final Verdict
Smith Snowboarding Helmet should be your first choice if you want to look really fashionable and cool while snowboarding. This convenient snowboard helmet will make you stand among the crowd and offer you great comfort with amazing security.
ILM Ski Helmet is built with a reinforced ABS shell, shock-absorbing EPS foam, and comfortable ear pads and complies with ASTM safety standards. It comes in three sizes- S: 50-54 CM, 19.5-21.25 IN, which is recommended for ages of 5+; M: 54-58 CM, 21.25-22.75 IN, which is recommended for ages of 14+; L: 58-62 CM, 22.75-24.5 IN which is recommended for ages of 14+.
The size adjustment dial can be rotated over 540°; you can adjust the tightness of the helmet according to your preference. Also, with an adjustable dial, you can wear a balaclava under the helmet for better warmth.
ILM Ski and Snowboard Helmet is equipped with 17 vents. This ski helmet offers a breathable wearing condition when you are skiing or snowboarding. You do not need to worry about a sweaty head anymore!
The bracket on the back of the ILM Ski Helmet helps to keep the goggles in place. Its anti-slip pad with hook and loop is used to bundle the quick-release straps for comfort.
The concave design of this snowboard helmet's earpads provides wearers with better comfort and clear, audible sound. The pads will not press your ears, and you will be able to hear your friends clearly.
ILM Ski Helmet's liners are comfortable and easy to remove and wash. Replacing the liner can help slightly change the helmet size. In addition, the liner behind the dial system makes the helmet comfortable to wear.
The bracket on the back of this snowboard helmet keeps goggles in place, allowing for the goggles to be easily taken on and off. Its rectangular black pad is comfortable, anti-slip, and bundles the quick-release straps.
Pros
Reinforced ABS shell
Shock-absorbing EPS
Complies with ASTM safety standards
540° rotating size dial for adjustment
17 vents
Removable and washable liners
Goggle fit brackets
Anti-slip pad with hook and loop
Anti-slip rectangular black pad
Quick-release straps
Cons
Final Verdict
ILM Ski Helmet might be your desired one if you want a huge comfortable helmet while snowboarding. Its breathable ventilation system will keep you cool and cozy, just like the way you want to be!
JetBlaze Ski Helmet has undergone intensive safety tests. The helmet fully complies with EN1077 and ASTM safety-certified standards.
Two reinforced layers of JetBlaze Ski Helmet provide maximum protection from the inside out. The external cap, made from strong ABS material, provides superior protection from the outside; the inner shell made from high-quality EPS foaming absorbs shock by your head from inside.
Adjustable venting of JetBlaze Helmet lets you control airflow to suit the ambient temperature. In addition, 12 air vent holes draw fresh air in the front and pull moisture out the back, which helps to keep your goggles clear and aid you in maintaining balanced and comfortable weather all day long.
It also provides a way to allow your helmet to be suitable for a range of weather conditions which makes the JetBlaze Ski Helmet a versatile choice for exploring different ski locations! You can even adjust the ventilation with one button.
JetBlaze Ski Helmet has a size tweaking dial for a perfect fit. The semi-flexible shell of this helmet either expands or closes around your head by turning the glove-friendly dial with your thumb. It gives an absolutely fantastic fit for most head shapes.
JetBlaze Ski Helmet's in-mold construction makes the helmet lighter, more durable, and better performed. In addition, the hearing and ventilation holes in earpads let you hear clearly and ensure safety when skiing. 
Pros
Complies with EN1077 and ASTM safety standards
Two reinforced layers
Strong ABS material made external cap
Shock-absorbent foam made inner shell
One button climate control
12 air vent holes
Removable liner and earpads
Lighter and more durable than other helmets
Hearing and ventilation holes in earpads
Cons
Final Verdict
JetBlaze Ski Helmet can surely impress you if you are looking for a snowboard helmet to use in various weather conditions. Its remarkably comfortable fitting has amazed the customers.
The majority of ski helmets make it difficult to get ski goggles to fit in such a way that they are secure enough to prevent the lenses from fogging up. If you want to eliminate the doubt out of deciding whether or not you have discovered a helmet that will fit with your goggles, then give this Odoland helmet a go. It arrives with a matching set of ski goggles, so you won't have to worry about whether or not they will work together.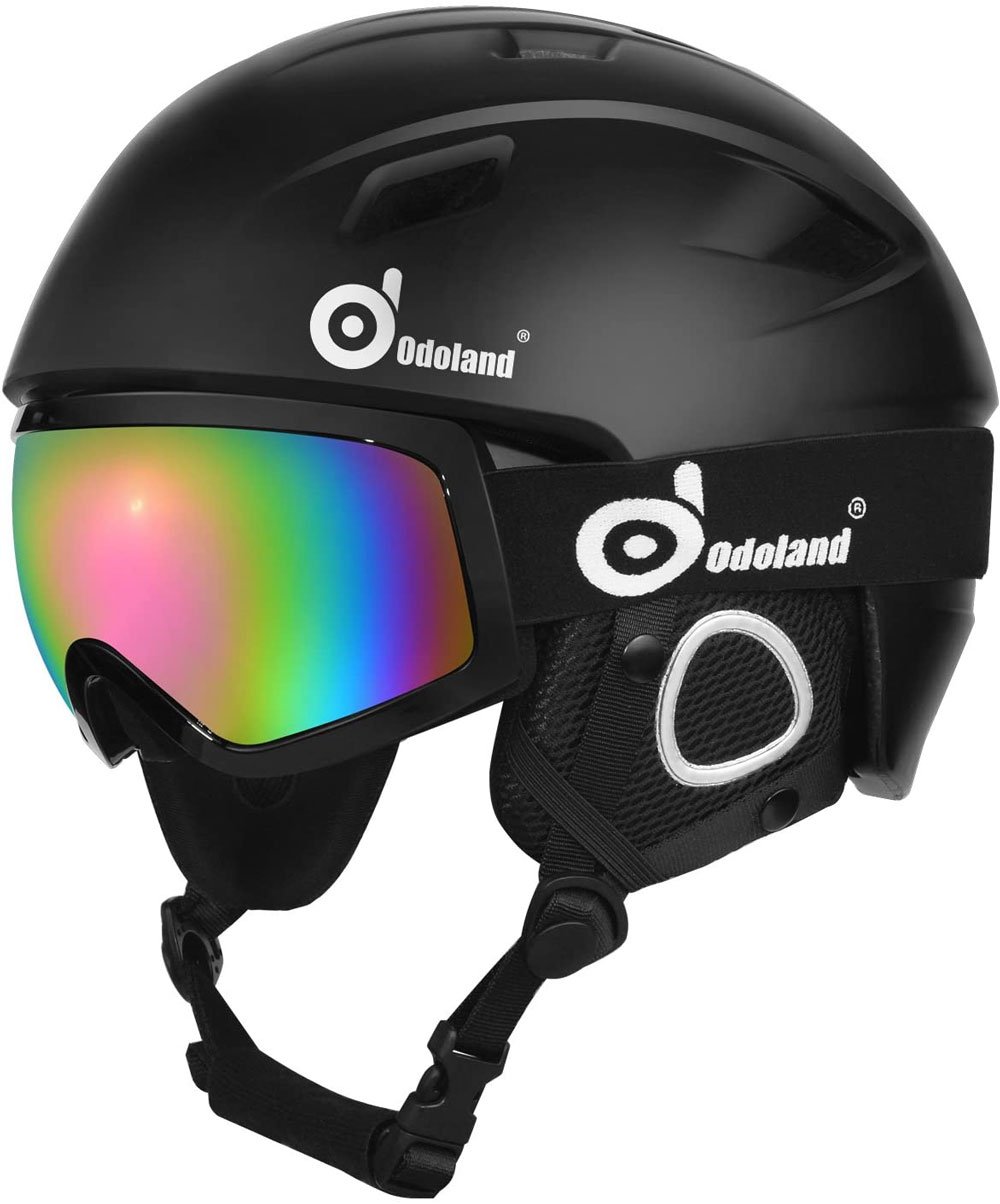 This ski helmet comes with a pair of goggles that can be removed, making it the ideal choice for everyone who enjoys snow sports. This package will provide you with effective and comprehensive protection for your head. When you go skiing, snowboarding, or participate in any of the other winter sports, you are going to have a lot of fun!
Both the goggles and the helmet are constructed from high-quality materials. It satisfies all of the required safety criteria, therefore it can hold certificates from both the ASTM 2024 and the CE EN1077. This helmet has a high resistance to both impact and penetration. Because neither the helmet nor the goggles will be able to move about, your head will be adequately protected from any harm or injury.
This helmet has 12 air vent holes built into it so that it may provide excellent ventilation. The Flow-Tech Venting Design included on the goggles not only prevents the lens from fogging up but also ensures that the airflow across the surface of the lens is maximized. You are shielded from the chill of the wind and the fog that obscures your vision by the thoughtful placement of the ventilation holes.
The helmet, as well as the goggles, are an excellent fit. The lining of the helmet can be removed, and it also contains removable earmuffs and a plush chin strap so that it may be worn comfortably even in the coldest weather. The band on the goggles is also very simple to adjust to provide the ideal fit and unparalleled comfort.  Because they are lightweight, you will experience less pressure on your head when wearing them.
You will also receive a carry bag for the helmet, allowing you to easily transport it wherever you go. If the look of the helmet is important to you in making your decision, there is a wide range of color options available.
Pros
A matchingset of goggles is included
Afantastic deal for the price
Lightweight and comfortable
Offers excellent protection
High-quality build materials and long-lasting construction
Flow-Tech Venting System
Removable lining
Easily adjustable chin strap
Appropriate for those who use eyeglasses
Cons
Ventilation system is not adjustable
Fit may be an issue for some
Snowboard Helmet Buying Guide
A snowboard helmet is an important piece of equipment that you should have on your next snow adventure. You must be vigilant while choosing your desired snowboard helmet so that it meets your demand and gives you ultimate protection.
There are many snowboarding helmets in the market, so it is okay to get confused in the helmet game. This is why we've collected every piece of information that you need to know while buying a snowboard helmet.
With the help of this buying guide, we're hopeful that you'll be able to buy the most suitable snowboard helmet for yourself!
Helmet Construction
There are three main types of construction in snowboarding helmets- hard shell, soft shell, and in-mold. Another helmet construction uses a mixture of the two types or a carbon fiber shell called hybrid. Most importantly, these helmet constructions must meet or exceed the European Safety Standard EN1077 and American Safety Standard ASTM2040 (American Society for Testing and Materials).
These helmets are generally made for a single impact, so if you notice any cracks, dents, or compression in the material, it is time for a new one.
i. In-mold
The in-mold construction uses a hard polycarbonate outer shell with the helmet's impact-absorbing EPS foam liner. This combination of shell and liner gives good durability without excess weight and better ventilation.
ii. Hard Shell
Hard Shell helmets use a durable ABS plastic shell glued to a pre-molded, lightweight EPS liner. This type of helmet tends to have fewer vents, but they're greatly valued and hard-wearing. This design provides the protection you need at a wallet-friendly price point. However, this design tends to be slightly heavier and has a more extensive profile.
iii. Soft Shell
Soft Shell Helmets have a softer foam against your head and a harder density foam against the exterior shell. This style of the helmet can absorb multiple weaker impacts but does not absorb the same amount of impact energy as a hard shell or in-mold style helmet. In addition, soft shell helmets typically weigh more and have fewer ventilation options.
iv. Hybrid
Hybrid construction combines hard shell and in-mold builds; this gives an outstanding balance of durability and weight. In addition, hybrids utilize a combination of a hard shell and or other helmet materials to provide added protection in key areas while still maintaining a lighter weight and low profile.
MIPS Technology
MIPS technology (Multi-directional Impact Protection System) is an added safety tech for head protection integrated into the build found in many helmets on the market today. MIPS technology reduces rotational forces on your head, brain, and neck caused by angled impacts to the head. A low friction layer separates the liner and the shell in a MIPS helmet.
When the MIPS helmet is subjected to an angled impact, the MIPS helmet's low friction layer lets the helmet slide according to your head, which absorbs a much rotational energy system, thus keeping you safe.
Ventilation
Ventilation allows cool air to get to your head as it warms up from a day's snowboarding. More vents generally mean an increased airflow. However, not all vents work the same. There are two types of venting systems in most helmets, active and passive. Active vents can be adjusted and allow for airflow regulation throughout the day depending on the weather, whereas passive vent openings are not adjustable.
There are two functions of ventilation in a snowboarding helmet, temperature regulation, and goggle ventilation. The primary purpose of the ventilation in your helmet is to provide temperature regulation. Less expensive helmets will offer you some form of ventilation with little to no control over its function. As the helmets go up in price, the ventilation systems will provide more control allowing you to open and close ventilation according to your needs.
The second function is airflow for your goggles. The better connection and airflow you have between your helmet and goggles, the less chance they will have of fogging up.
Fitting of A Snowboard Helmet
A correctly fitting helmet is incredibly important. When you try a helmet on, it must fit snugly and firmly on your head and not move side to side when shaking your head. It ensures that the helmet functions as designed and offers the highest level of protection possible. 
As no two helmet manufacturers make their helmets the same, it is vital to measure your actual head size in centimeters (a small in one brand may be a medium in another).
If you want to measure your head, wrap a tape measure around from just above your eyebrows from ear-to-ear. If you don't have any tape measurer, use a string and a ruler to measure it. Then you can simply write down the number and order away.
You need to align the front of the helmet above your eyebrows and tighten the chin strap to avoid unwanted gaps between the helmet lining and your head.
Moreover, you need to check that the back of the helmet does not press the back of your neck. Finally, it may be worth trying the helmet with your goggles to ensure they fit well together.
Helmet Sizing
When considering what size to buy, it's recommended to use the measurement guide for reference that comes with the helmet. In addition, it is worth trying different models to see which one suits your head the most.
Some manufacturers add levels of customization and adjustability to particular models for better comfort and fit. For example, helmets listed as standard do not have size adjusters built-in or may use a simple auto-adjust system.
Comfort and Interior
You'll want to look for helmets that have considered not just the protection of your head but also its comfort.
Additional interior linings can help with fit and comfort and even wick moisture away from the head. Some liners can be easily removed and washed. The earpads may be detachable and washable for warmer days or even provide compatibility for goggles and audio devices.
Fit Systems
At the rear of a helmet, you will often find an adjustable fit system that will allow you to dial in the comfort of your fit perfectly. These systems include removable layers of padding, adjustable straps, and dials, which keep the helmet snug to your head. Some helmets even feature magnetic buckles. In addition, some premium helmets have BOA fit systems on them.
Additional Features
Many additional features can be seen in the high-end helmets. For example, some helmets offer music compatibility with earbuds to even full-blown systems to let you hear music while snowboarding. Likewise, some helmets have colorful lighting for a unique look. You can choose whichever featured helmet you want according to your riding style. All the features are there merely to help you to enjoy snowboarding safely.
Final Words
Snowboarding is an exciting sport that works as an interesting hobby or pastime as well. The snowboard gear helps you mentally and makes your physical health more active, immune, and energetic!
To make your snowboarding journey safer and happier, we have provided every piece of information in this article to help you find the perfect snowboard helmet for yours. Write to us for more information. Send us your comments and recommendations (data rights reserved by our privacy policy).
Now, go and conquer the snow with your desired snowboard helmet!
FAQs
Do I need Recco Reflector in my snowboard helmet?
Ans: A built-in Recco Reflector in helmets can help a rescuer find a snowboarder or skier who has fallen victim to an accident. It reflects the radio signals from Recco Detector, thus assisting the rescuer in finding the victim's location.
Do ski goggles go over the helmet?
Ans: If the helmet is compatible with goggle frames, such as Oakley goggles, you can wear ski goggles both over and under the helmet according to your preference. Different helmets provide different functions for ski goggles.
Do you need a helmet to snowboard?
Ans: Though you do not need a snowboard helmet for snowboarding, you should still wear a helmet while snowboarding to keep your head safe and tight seal. In addition, a helmet keeps your head dry and warm in chilly weather.
How much to spend on a ski helmet?
Ans: You need to go for around $100 to $300 price tag for a good quality ski helmet. Higher-end helmets might cost about $200 to $340.
What are the best ski helmets made of?
Ans: Ski helmets are basically made of a hard plastic/resin shell with inner padding.
What helmets do pro snowboarders wear?
Ans: Pro snowboarders wear the helmet, which offers maximum security and comfort to them. You can check out our top listings along with the Oakley Mod (modular brim system), the Scott Symbol, Smith Vantage MIPS, Sweet Protection Switcher MIPS helmet, Smith Mission MIPS, POC Obex Pure Snowboard and Ski helmet, the Salomon Mtn lab to better understand.
What to look for in a ski helmet?
Ans: There is a lot to look for in a ski helmet like helmet sizing, construction, ventilation, MIPS liner, durability, comfort, fog prevention, sweat wicking feature, and other additional features- everything accumulated in our buying guide.