When you're shopping for the best snowboard wax, you'll stumble onto more possibilities than you can think; different variations; different temperatures, even different applications. It can be a lot to take in, so we've broken it down for you in a simple, easy-to-read approach.
Our team has researched and selected some top-notch snowboard waxes in the world that function well in a wide range of temperatures to help you identify your 'go-to' wax product this skiing season.
We have also compiled all the necessary factors you need to know when you search for snowboard waxes in our detailed buying guide.
Let's glide in!
6 Best Snowboard Waxes Reviewed: Our Top Picks
Choosing the right ski or snowboard wax is often disregarded despite its importance. It's no surprise that picking the best snowboard wax may be difficult, whether you're new to waxing or you just wonder which product meets your needs.
We've got the snowboard waxes below for every temperature, so you can have fun riding all season with your friends.
The Demon Hyper X wax comes in a huge 1.06 LB (480 gram) solid bar and will last a long time. The Demon Hyper Wax, made in Southern California, is suitable for all snow and temperature conditions. 
The Demon Hyper X Wax consistently improves your glide and speed, with particularly outstanding results in terms of initial pick-up speed in wet circumstances.
The Demon Hyper X Wax melts quickly, which can make for a faster and no-hassle application if you've done it before. Still, it can also cause a mess and waste wax if you're new to hot waxing. It's not a major deal, but it can take a few tries to get the hang of the application for versatile uses.
This snowboard wax Demon Store brought to us can be used to clean and ready your bases. If that isn't enough to entice you, it smells great like citrus.
Pros
Suitable for all temperatures with universal temperature blend for universal application
Huge amount of product that will last long
Premium proprietary blend of products
Amazing citrus scent with a hint of vanilla
Offers great value for money
Cons
The application method can be tricky
ZUMWax Rub On Wax is currently one of the most popular, highly rated wax products on the market. The ease of application of this paste wax is appealing to the fans because it is convenient for use on its own or rubbed as part of preparation using ZUMWax's Iron On wax. You don't have to wait if there's fresh snow on the slopes ideal for exploration with this cool rub on snowboard wax.
ZUMWax Rub On snowboard wax is extremely popular since these pastes provide a quick and easy way to wax your board and prepare for a day in the mountains. The simple two-step procedure allows for quick prep.
The Rub Rn wax was created in response to the popularity of ZUMWax's Iron On wax, and it offers an alternative application method that employs the same winning composition. This rub on product smells amazing with a sweet undertone, it's simple to apply, it lasts longer, and you can run snowboard on the slopes for added speed and a reviving dose of adrenaline.
This rub on wax is suitable for both advanced snowboarders and those who are new to the sport. If you're trying to figure out a cheaper, quick, and easy way that suits your boards, this could be your new go-to. You can wax everywhere and enjoy quick acceleration and a smooth ride.
Pros
Excellent quality wax
Suitable for all temperatures ranging from 32°F to -22°F snow temperature and 50°F to -22°F air temperature
It can be easily applied with the attached cork (comes as a lid on the bottle)
Affordable price, compared to others
Suitable even for a beginner snowboarder
Smells heavenly and easy to carry
Cons
Most people didn't find it as a suitable substitute for hot wax
Doesn't last long
Hertel's Super Hot Sauce snowboard wax is named after a joke. This wax has been attracting attention and enthusiasts for many years. It's easy to see why this snowboard wax is a favorite among many winter sports aficionados.
There are few all-temperature snowboard waxes on the market, and Hertel's Super Hot Sauce wax uses specifically selected surfactants to reduce friction, improve grip, and promote safety. The adaptability of this wax is one of the finest features the manufacturer boasts about. Developed for a wide variety of temperatures, borders may be prepared for any situation.
Hertel Wax Super Hot Sauce is a proven winner in the snowboard wax rankings, selling out for decades. This wax has held up well in a competitive market where snowboarding has exploded in recent years. This is largely owing to its unique formula, brand, and product reputation. This is a huge advantage.
Pros
One application can last up to three days; offering prolonged use and more hours of excitement on the slopes and jumps
Special formula that's suitable for all operating temperatures and cold conditions
Provides extra speed, increased safety, and improved control while riding
Perfect for both iron-on application and rub on application
No color additives
Cons
Dakine makes various excellent snowboard tools and waxing accessories, but they also create excellent all temperature wax. Their Indy Hot Wax is a favorite of ours for days when the weather will fluctuate considerably, especially during the East Coast's shoulder seasons. This snowboard wax is reasonably priced and a fantastic wax to use before storing your board for the season.
Indy Dakine Hot wax is a paraffin snowboard wax made entirely of petroleum. Hot waxing or iron-on application is advised with this wax. It can, however, be rubbed on your tool if you lack time to get it ironed on.
This snowboard wax has a high performance blended PFC (Perfluorocarbons) free recipe with boost ingredients.
This Dakine hot wax is indicated for cold application when the weather is below 20 degrees Fahrenheit [-7 degrees Celsius] and warm application when the temperature is above 26 degrees Fahrenheit [-3 degrees Celsius]. As a result, it is suited for almost any temperature and snow situation.
One last thing to consider is that it is fluorocarbon wax. The sole reason it's listed as a downside is the health risks associated with fluorocarbon consumption. The wax will offer you smooth runs. Due to the fluorocarbons' water protection, this wax can be used at any time of year.
Pros
Offers ultimate speed and smooth rides with base protection
Can be applied using both the iron on and cold quick application methods
Excellent for novice snowboarders or skiers
Smells good
Comes at a low cost
Cons
The formula includes fluorocarbon, which can cause health issues
Swix Bio Degradable Snowboard Wax is perfectly suited for freeride, alpine, and skiing in temperatures ranging from 14 to 36 degrees Fahrenheit.
The big block ensures that you'll have enough wax to keep your skis or board in great shape all season. Even when applied hot once a week, many users find that one block of Swix snowboard wax lasts them the full season, even in Colorado.
This wax is one of the best ski waxes on the market due to its biodegradable formulation. A skier can improve your performance on the snow in average temperatures while also ensuring that their gear does not harm the environment, regardless of where they use it.
Swix biodegradable formulation is quite hard, like most racing wax. While it is quite simple to implement, it does require some patience and effort to achieve the greatest results.
Swix recommends using an iron to guarantee proper application; thus, this wax is not suitable for usage on the go. However, if you take the time to apply the wax, it will perform as intended and ensure optimal speeds on the snow for weeks.
Pros
Environment friendly formula that protects your snowboard
Superb wax for warmer temperatures
User friendly and easy application
A quality product with a reasonable price
Offers effortless gliding while snowboarding or skiing
Cons
Users complained that it isn't long-lasting or durable
Purl Wax is an American-made product that, regardless of the snow conditions, will keep you sliding down the mountain with ease thanks to its formulation, blending, and hand-pouring processes. Purl Wax is a Colorado-based company that has been family-owned and operated since 1999. The company was established in order to hasten the transition away from fluorocarbon-based and environmentally hazardous ski and snowboard waxes. They are excited to provide a comprehensive selection of performance-driven ski waxes and snowboard waxes that are hand-poured in the United States.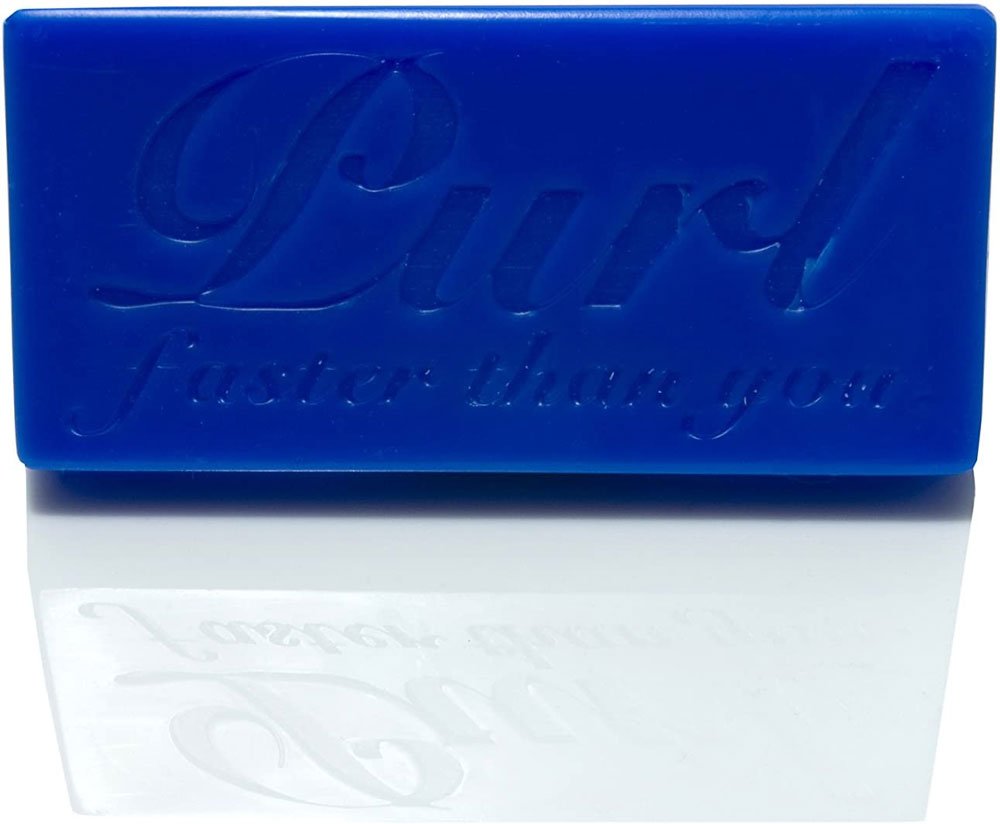 This one is an incredibly fast ski and snowboard wax that is suitable for use in cold conditions. It is constructed to keep your ride at a great velocity for the longest time possible. Purl Wax Blue is a winter wax blend that is designed for use in cold weather and is appropriate for snow temperatures ranging from five degrees Fahrenheit to twenty degrees Fahrenheit. In addition to this, it has a tenacity that makes it resistant to dry friction caused by powder. This cold-temperature wax offers a speedy, superior glide as well as long-lasting performance throughout the winter.
This wax is suitable for use with all types of snow sports. It offers the best glide possible across all bases. The Purl All Temp Wax is an excellent choice for all types of skiing and snowboarding, including freeride, snowboard cross, Nordic, and Alpine skiing. It is also great for cross country skiing. Even solid rail prep for terrain parks can be accomplished with this purple wax.
It is a wax product that is good to the environment. Purl Blue wax is manufactured with non-toxic, sustainable wax compounds that are devoid of dangerous chemicals and include no Fluoros, PFOAs or PFCs. Additionally, the organization contributes one percent of all sales to various environmental protection causes.
The ease with which Purl Snowboard Wax can be applied is yet another of the product's many strengths. It is really simple, which makes it great for both skiing and snowboarding. There is a hot waxing application needed for this product. In order to melt the wax, place the block of Purl All Temp wax directly against the hot iron. The application can be done either by dripping on or by crayoning on.
Pros
Easy hot-waxing application
Perfect for using in all snow sports
Offers smother and faster glides
Lasts for a long time
Amazing for low-temperature conditions
An eco-friendly product
Ideal for all sorts of snowboarding terrains
Cons
Not suitable for warmer temperature
Variations in the product's weight
Types of Snowboard Wax Based On Compositions
The sort of wax you choose depends on how you want to apply it to your snowboard and whether you have any instruments to support you.
i. Hydrocarbon Wax
All recreational snowboard waxes have hydrocarbon as a basis. Hydrocarbon wax is fantastic for cleaning and storing ski wax because it is cheap. You may also use it as a riding snowboard wax if you don't care about speed.
ii. Fluorinated Wax
The drawback of fluorinated wax is its toxicity from fluorocarbons. When using this wax, be sure to work in a well-ventilated location.
Pure fluorocarbon wax comes in three varieties: liquid wax, powder wax, and block wax. The most popular is the liquid wax, which may be sprayed uniformly and corked into the foundation.
iii. Racing Wax
This is when it becomes expensive and technical for a race. Lots of combinations are going on here, but fluoro is the main focus.
Racing wax usually comes in base and top layer varieties and extent. The base wax prepares the top layer. Brands commonly couple these layers; thus, base layer waxes will describe the waxes it matches.
iv. Eco Friendly Waxes
Eco-friendly snowboard waxes are an excellent option for individuals who wax at home, especially with children around. Soy is the most popular foundation for environment friendly snowboard waxes.
Natural ski waxes, like soy wax, are completely biodegradable, unlike other options. Eco friendly wax is notoriously difficult to scrape. A handful of hot-scrapes will solve this problem.
Types of Snowboard Wax Based On Temperature
Temperature is the most important consideration, as professionals state. Snowboard waxes that target a specific temperature range will essentially have some overlap. The colder temperature range is safer for training or game, as a cold temperatures wax works better in warmer temperatures than hot wax.
There are three different types of waxes based on temperatures.
i. Cold Temperatures Wax
Cold waxes are a great option for dry, cold weather. Colder waxes harden the snowboard base structure, improving gliding on cold, dry snow conditions, which makes the snowboard and ski wax last longer on cold days.
One Ball Jay 4WD Paraffin Snowboard Wax is a great example here.
ii. Warm Temperatures Wax
Warm temperature waxes are ideal for your snowboards in warm, rainy weather conditions. Warm snowboard waxes help the base of the snowboard resist suction, reducing the chance of getting stuck in wet spring crap. Warmer weather condition means wet snow. Hot waxing doesn't last as long.
iii. All Temperature Wax
All temperature wax or universal wax is a jack-of-all-trades in the ski and snowboard wax realm with universal application. This universal wax is suitable for recreational riders in all temps. Except if you're a competitive rider who needs every ounce of speed or a speed demon, all temp wax will do.
Snowboard Wax Buying Guide
Unlike a helmet or pants, a great wax might be a difficult purchase and a bit confusing for beginners. With so many different application methods, sellers, and temperatures, you should know a few basics before choosing a wax that will increase the durability of your snowboard.
In addition to the aspects given below, you may read other reviews while looking for the right direction to choose the finest snowboard wax for you.
Effectiveness
The effectiveness and versatility of snowboard wax depend on the formula, how it is applied, and the conditions in which it is used. The best formulas are tougher, allowing for easier gliding forward. You must also apply the ski wax correctly to hit the snow without worrying.
Some waxes require heat to apply. In contrast, other waxes are rub-on ski and snowboard waxes that require no heat. Finally, the wax will be temperature-rated, indicating suitable utilization between certain temperatures.
The snowboard wax will stay on your skis or snowboard in all situations and improve your glide.
Application Method
The easiest ski snowboard wax to apply is a rub-on wax. Rub on waxes are portable and usually require two steps. The usual way is that you apply simply rub the wax first, then use a buff pad to smooth and shine the rub-ons.
There is also iron on wax. To apply iron on wax to your snowboard, you'll need a hot iron. Iron-on application is a time-consuming process that may necessitate the use of additional instruments to achieve a flawless layer of iron on wax for your snowboard.
Finally, we have spray on wax. Spray-on ski wax does exactly what it says on the name. Remove the cap and spritz the wax on. You may need to smooth it out with felt cloth, but there isn't much else to it.
Base Material
Snowboard bases are extruded or sintered. Both are built from P Tex material but have distinct features. Extruded bases are not porous; therefore, they don't absorb ski & snowboard wax. Sintered bases are particularly porous, allowing for great ski wax absorption.
Ease of Removal
To apply a new thin layer of snowboard  and ski wax, you must remove any old wax. Hardened snowboard wax is difficult to be scraped. However, many companies sell or include a Plexi scraper in their wax kit.
Scrapers are the safest way to remove wax. The scraping process is a simple trick, but it is a matter of how much time it takes. One scrapes the flat edge against their equipment, and the old snowboard wax falls off.
Speed and Performance
A universal wax improves board performance by minimizing dry friction conditions as you glide down the mountains. The same goes for all temp wax with universal application.
A high-quality snowboard wax helps your board excel in the snow conditions and accelerates you to be fast on the mountain or hill. The waxes also help you stay safe by providing you with more control. Waxing a board or ski makes for an effortless ride and easier control.
Prices
Good waxes are sometimes on sale, and pricing often merely reflects product size, boxes, or quantity. We've compiled the finest offers on the snowboard waxes sold worldwide.
There is a wax for every budget, whether you want to buy one for the whole season or simply spending a little for a trip.
Snowboard Wax Maintenance Tips
Conclusion
Just like you need to fill up your car before a long drive or change your oil regularly, you need to wax your snowboard before hitting the slopes on the weekend. In most cases, you don't have to wax it every time, but it's good to invest in a good snowboard and know how to use it.
All of the snowboard waxes listed here by our team are excellent for all skiers and snowboarders. Just look out for different temperatures, benefits, convenience, your skill, preferences, and the application method you favor without emptying your pocket.
Take care of your board, use the wax that suits your demands and feed the base, and enjoy the difference it creates. Also, please notify us if you buy something from our list, and do not hesitate to contact us if you require more information! (data rights reserved by our privacy policy)
Good luck!
FAQs
Does rub on snowboard wax work?
Ans: You can use an all conditions rub on wax for a quick and easy performance boost. However, it will not be as effective or long-lasting as hot waxing your bases.
Does waxing your snowboard make a difference?
Ans: A newly waxed board has more traction on the fresh snow, which means less time stuck in the flats and needing to unstrap. Waxing your board also hydrates and preserves the snowboard base, resulting in much longer life. Waxing your board regularly (once per week) helps ensure that it rides swiftly.
How often should I wax my snowboard?
Ans: In general, wax the snowboard every 3 to 4 days of riding for the greatest benefit. This results in an improved glide in varied snow conditions and overall performance.
What can I use to scrape the wax off my snowboard?
Ans: This can be accomplished with either a basic citrus-based cleaner and a cloth or by employing the hot scrape method.
What is the best snowboard wax?
Ans: The Demon Hyper Wax, as we learn from our test and research
What kind of wax do you use on a snowboard?
Ans: Glide wax. Glide wax is designed to minimize sliding friction on both alpine and cross-country skis.