The best roller skates for dancing have been in public conversation lately as roller skating has taken up a lot of interest. According to a recent CNN article, Skateboarding and Roller Skating are becoming mainstream with millions of people worldwide.
There are many types of roller skating, chief of which are Jam skating and Rhythm skating. Both of these are dance style types. These require years of practice and dedication. And gears. We are here to talk about the gears, namely the roller skates for dancing.
We will review some of the top-rated roller skates for dancing that people have used and found to be most useful. We will see what the finest dancing roller skates have and what people think these brands can improve on.
As we have mentioned above, the two main types of dance skates are Jam Skates and Rhythm skates. Our review list will be in two parts as well. We will divide the review into two parts- Rhythm and Jam Skates. After reviewing these customers' favorite roller skates for dancing, we will see a buying guide on how you can buy a new pair of roller skates. And we will answer some of the frequently asked questions.
Let's go –
Out Top Picks for The Best Jam Skates for Dancing
Let's see the finest jam skates for dancing in this section.
Chicago bullet skates come from the oldest skate producers. This is the classic skate for rhythm skating. As we know, the roller dancing jam skates have low cut ankles for better movement and control.
Historically, jam skating has used high-cut boots, but in the late 80's it all changed, and low-cut boots were used for jam skating as they allowed more speed, agility, and balance.
The Chicago Bullet Skate is the best jam skating dance skates. All of its features fit the skating requirements like a glove.
It gives you greater freedom, safety, and stability because of the low cut ankle. You can maneuver and accelerate faster at will.
The wheels are 62 mm urethane wheels that allow you greater control as well as more speed and maneuverability. This skate roller for dancing has premium axles that are fixed and features two pairs of ABEC 1 precision bearings.
The boot has a padded collar and power strap. You have heel pull loops for easy carry, which is a good function for beginners.
You have a lace closure system that allows faster and effortless adjustment. The material is vinyl and is soft on the feet. But the boot itself is very durable. In addition, the trucks are polycarbonate trucks with high rebound speed wheels.
This is the highest rated jam skate roller skate for dancing.
Pros
Great roller rink skating jam skates, dancing roller skates, and other aggressive skating styles
Perfect for street skating, speed skating
Smooth outdoor roller skates
Superb skates with ankle support
Durable vinyl boot with adjustable lace dance roller skates
Soft boots with ideal wheel diameter
Solid wheels, preferred by skating choreographers
Cons
Some products have a poor alignment
Pacer GTX-500 is another low cut, 62 mm wheel skate for jam skating.
The bearing on these jam skates in G-force 608ZB. It gives you a smooth and effortless acceleration! These Mach-5 indoor/outdoor skate speed wheels are 62 mm x 35 mm.
It is perfect for jam skating because the material is very sturdy and durable. The chassis is Zytel Nylon double action trucks for extra durability and mobility.
The quad wheels are available in many sizes and colors for kids and adults, men and women. This is a budget pair of skates that can be used for other types of skating besides jam.
The rating of this jam skate is pretty high, and the price is pretty affordable. There is a non-adjustable toe stop for your toes.
This skating wheel can get in black, red, green, dark green, and white. And the sizes available are Kids 1, 2, 3, 4; men 4, 5, ladies 5, 6 and 10, 11, 12.
Pros
Available in most skates sizes, durable boot
Smooth outdoor skating in a skate park and slippery rink floors
Pro roller skaters with ankle air for an aggressive dance routine
Good street skates
Soft boots with ideal wheel diameter
Cons
No adjustable toe stopper
Bearings often malfunction
Sure-Grip makes premium quality skating products like skate wheels and boots, and other skating equipment. This is one of their top-rated low cut jam skates for roller skate dancing.
This is a synthetic leather boot with GT50 swirl wheels. It is very comfortable and durable because of the material. And indeed, you can make hard turns and acceleration with these leather beauties.
The bearings used here are ABEC-5. The truck is a rock plate truck. This is perfect for recreational skating, jam, and roller derby skates. Meanwhile, larger skates come with aluminum super X plates.
There are adjustable toe stopper straps made with split vinyl. It is perfect for a sudden stop and starts which is very useful in skating.
There is a vinyl reinforced cover for extra protection on the back. Rolled covers are added for a comfortable heel, and boot loops are there for easy putting on and off.
There are plates mounted on the boot for extra stability and protection to the ankle, which is where the jam skate's moves originate.
The wheels are ideally placed to prevent foot fatigue. The wheels are made with urethane, and the boot features urethane cushions. The boot laces are long straps that reach all the way to the heel for extra support.
Pros
Long lace straps for roller derby, dancing roller skates
Smooth roll outdoor skating experience
For pro roller skaters with ankle support with metal plates
Good placement of the wheels, perfect for street skating and roller derby
From a brand that makes skating equipment
PU leather boots
Cons
Riedell roller skate is a high quality, ultra durable, and low cut roller skate for dancing in jam skates.
It is made with vinyl materials for durability. The material protects your feet and is also breathable. So, you get protection and ventilation at the same time!
This jam skate has an easy lace system featuring a Velcro cinch strap for easy adjustments.
The eight wheels are fitted with high quality ABEC-5 ball bearings for smooth rolling. The balls are smooth and give you minimum friction for the best ride.
This boot features a low cut ankle, but it is very durable and fits perfectly to your feet, and protects you. The wheels are made with polyurethane; a 62 mm 93A wheel is, as you know, the best for jam skating. These wheels give you extra grip indoors and outdoors.
These boots are made for skating and are available in Aqua blue, black and purple. And you can get it in almost all sizes.
Pros
Velcro cinch strap
Best material, breathable and durable boot
Smooth roll outdoor roller skates
Best quality bearings
Available in many sizes
Best indoor wheels
Cons
The VNLA SLVR jam skates are a pair of roller skate boots that are low cut and feature all the other specifications of the top-drawer roller skates.
The wheels of this roller skate are 62 mm, 95A polyurethane wheels that have Vanilla genuine backspin. These are perfect for jam and indoor skating.
The plates are made with Vanilla Gorilla nylon plates, upgraded aluminum trucks and plates, micro adjustable lock nuts, and 8 mm axels.
The ABEC-9 bearing provides you the chance of great speed and maneuverability. This pair is perfect for all kinds of indoor skating and is best for jam skating.
Pros
ABEC-9 Bearing
Best plate and truck materials
Outdoor roller skates
Micro adjustable lock nuts, hybrid wheels
Cons
Sizes are often unavailable
Our Favorite Picks for The Best Rhythm Skates for Dancing
Let's see the roller skates for dancing in rhythm skates. These skates require high-cut boots with extra support for ankle.
Chicago classic quad skates are a hand made high cut roller skates for men. It is an all around rink skating and social skating skate.
The skate has high cut ankle support and study laces for extra protection that you will need for rhythm skating. It is comfortable and secure.
The classic urethane wheels are resistant to wear and tear, gives traction and control in rhythm skating.
This is not only a highest reviewed rhythm skate, but this is a highest reviewed skate in general. The base plate is made with aluminum. It is very durable and strong for a long time.
Pros
Classic skate for rhythm skating
Highest reviewed product
Better than many higher priced skates
Cons
Doesn't have a lightweight nylon plate
We have heard a lot about Moxi beach bunny skates. Still, when we decided to look that up, we found out that this particular product is better reviewed and more people's favorite. This is better than Moxi beach bunny roller skates, according to our research and customer reviews.
MoxiSkates make quality skates for women. And this product of theirs is the best rhythm skate in the market.
It is made with soft leather, and there is a high impact lightweight powerdyne nylon plate with strong metal trucks for the most increased support while skating.
It is an easy fit rhythm skate for your convenience. It comes in many colors for you to choose from. There are many sizes for you; make sure to check them before purchasing.
This product gives the best ankle support for your rhythm skating needs. It features adjustable toe stops for instant stopping.
Pros
Heavy duty lightweight powerdyne nylon plate
Better than many pricey skates
Adaptable toe stops, jack boot skates
Available in many colors and sizes
No break-in period, just put on and get rolling
Cons
Although it is named a women's quad skate, it is a unisex quad skate for rhythm skating.
This Impala rhythm skating boot has 58 mm roller skate wheels that are known to be the best for rhythm skating. It has a high top cut ankle support. The sole is made with polyvinyl chloride, and the trucks are aluminum alloy, and the base plate is too.
The bearing of this Impala skates is an ABEC-7 bearing. This product is a PETA-approved vegan product.
Pros
Unisex skates, although the name suggests differently
Better than many higher priced skates for rhythm skating
ABEC-7 Bearings
Aluminum metal plate, premium aluminum trucks
Vegan product
Cons
The BTFL Pro is a high-quality roller skate in terms of its technological features. Hence, great for rink, artistic, and rhythmic skating. The structural brilliance of a bunch of German professionals was all it took to turn BTFL into a distinctive brand.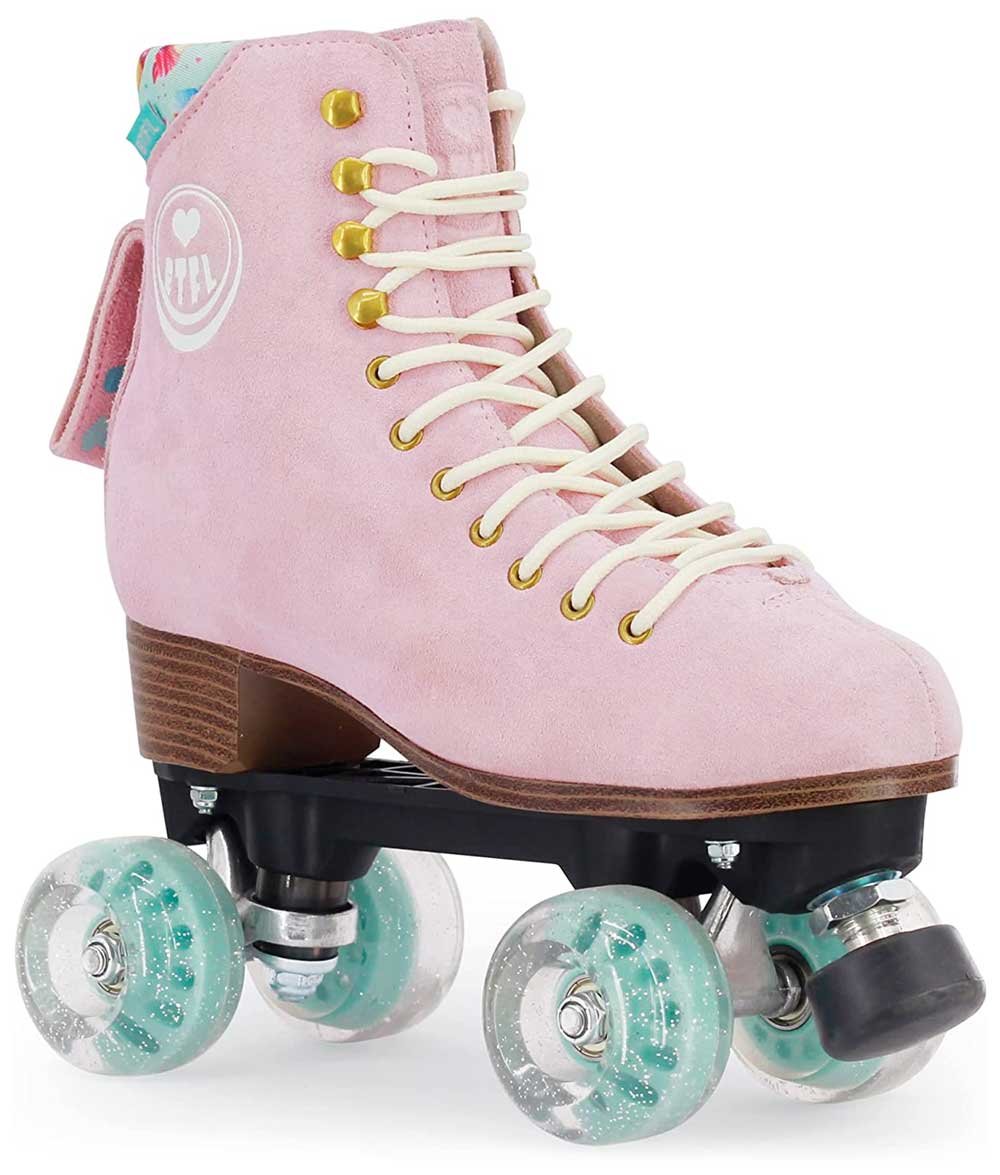 The upper shoes of BTFL skates are guaranteed to be free of plastic, making them extraordinarily soft, flexible, and pleasant. You will find that these skates give good traction, enabling you to glide easily, especially on wooden surfaces. A wide range of techniques may be performed more quickly and effectively, and they also look beautiful.
Full grain leather is used to make the uppers on these roller skates. A PU micro fiber comfort lining and a sleek contoured leather tongue round out the features. To keep your feet dry when skating for lengthy periods of time, it sports a Race Wedge comfort leather sole.
Furthermore, these skates include nylon reinforced frame and aluminum trucks. You'll be able to do everything you set your mind to, whether it's spinning, practicing tricks, or simply coming to a complete stop.
These leather shoes have a Lock Down lace mechanism, customizing the glove like fit. Eyelets are used to keep the laces from breaking, so your feet are kept firmly in place. It has a contemporary fit Aero Lace cover to give an extra layer of safety and style.
Comfortable, cruiser-friendly rides are ensured thanks to the flexible toe stops. This quad skate is an unbeatable value for beginning or casual outdoor skaters who appreciate attention to detail and imaginative colors. It is filled with both!
If you want to be able to claim that you have the best roller skates for dancing, you need to have four high-quality wheels that are constructed of materials that are both robust and moldable. This will allow you to have a skating performance that is both protected and well-grounded. The high-performance wheels on these boots are from Fresh Swag and they measure 62 millimeters by 38 millimeters, propelling the skaters to a new level of elegance. They are made of a rebound Urethane that is both shockproof and durable. These bearings have a race rating of Gold-7.
Pros
Carbon steel bearings with an ABEC-7 rating
Easy to lace up
Wheels that glide easily
Cushioning thatensures comfort
Aunisex aesthetic
Hasa height-adjustable stopper
Flexible yet supportive
Material made from real leather
Excellent for use in rhythmic and figure skating
European-standard sizes in a wide range of styles
The neck area is lined with a smooth material
Cons
Insoles are not of good quality
Small wheels
Buying Guide of The Best Roller Skates for Dancing
There are a few things to consider while buying the best roller skates for dancing. You need to keep in mind these few things before purchasing roller dancing skates.
All of the skates we reviewed are the best in the market. But if you know what makes a roller skate wheel for dancing, you can buy, or gift these to anyone, anytime.
Let us see the buying guide –
Types of Dance
The type of dance will largely affect the wheels. This is why you need to consider this while buying the roller skates.
The two primary type of roller skates dancing is jam skating and rhythm skating. The two types of dancing require different kinds of skates.
Jam skating requires low-cut boots with 62 mm wheels. Because it combines gymnastics, dance, and skating, the boots need to be more agile, and your feet need more mobility.
Rhythm skating is more dependent on ankle fixity and is more uniform. This is why you would need high top-cut boots with smaller wheels. The wheels need to be skinnier and harder for less friction. You should look for 52 mm wheels.
Rhythm skating requires more smooth and slippery surfaces, and on those surfaces, harder wheels work the best. Our list features the best jam skates and rhythm skates.
Wheel hardness
While buying a roller skate for dancing, a wheel durometer (leveled as "A") is another thing to consider. Wheel hardness translates to the amount of friction a wheel will generate on a surface.
Softer wheels are better for outdoor, uneven surfaces. Because they are more delicate, they generate more friction and give you more grips on uneven surfaces.
But for roller skate dancing, you should look for wheels in the 90A to 101A hardness range for better grip, friction, and stability.
Our list features the high-quality wheels with the perfect hardness for the ideal rollers skates for dancers.
Wheel Diameter
Wheel diameter is a crucial consideration for roller skate dancing. In general, smaller wheels are better for roller skate dancing.
As a general rule of thumb, wheels that fall between the diameters ranges of 52 mm to 62 mm are the most suitable for roller skate dancing. The ones on the higher range of the spectrum are better for jam skaters, and the wheels on the range are better for rhythm skating. Our list features the top-quality wheels with the perfect diameters for the rollers skates.
To summarize, larger wheels are better for jam skating; meanwhile, slightly tinier wheels are better for rhythm skating.
Boot size
Boot size for roller skate dancing is the most critical factor. It is so evident that talking about it feels redundant.
But, boot sizes are essential. You need to know the scale. It is the same as your regular everyday shoe size but making sure that doesn't hurt. You can save yourself the hassle if you just ask the size of the boots.
There are some brands with their own measurement charts; make sure to ask for that. Our list features the best boots with standard sizes for the best rollers skates for dancing.
Design
Design is the most crucial factor in buying roller skates for dancing. Make sure the colors and designs are according to the themes that intrigue you and you are willing to perform on.
Materials
Roller skate dancing is more strenuous than regular skating. This is why you need to look into the material. If the materials can take the movements and pressure, you can most assuredly buy the pair of boots. If the wheels are made with premium quality materials that can take the strain or do not hamper your mobility in any way, you can get that boot. Our list features the high-quality materials for the rollers skates.
Brands
Many people overlook brand names thinking all products are the same. But, in fact, branded products are better.
Big brands have better quality control and check. They have a reputation to protect and therefore take the quality of their products very seriously. Brands are obliged to produce the best products.
The products in our list are from the best brands. But that was the last item of our consideration. We selected products based on customer reviews and ratings. Customer experiences are the highest variable in our list. But, brands were a consideration, a small but significant consideration.
Conclusion
Buying the best products is never easy. It is hard work, and without the proper knowledge, you can make a mistake. Your mistake can cost you financially and even physically. Lower quality products can harm your performance and your health.
We found out the products that professional roller skaters have used and posts of roller skating tutorials. Their reviews and recommendations are the basis on which we have selected these best roller skates for dancing.
You, our valued readers, may have some inputs, experiences, and suggestions. You can share your experiences with us. We value your input. Please write to us (data rights reserved by our privacy policy).
And, always remember, safety gear saves lives.
FAQs
Are Chaya Melrose skates good?
Ans: We have reviewed the finest roller skates with the highest customer reviews in our list. Chaya Melrose's roller skates didn't qualify for that list.
Can you dance in roller derby skates?
Ans: Yes, you can. If you are able to get the proper skates, you can dance in roller derby skates.
What are the best artistic roller skates?
Ans: In our list of top-notch roller skates for dancing, we've reviewed the best artistic roller skates.
What are the best roller skates for dancing?
Ans: It depends on the type of dancing you are going to perform. The best roller skates for dancing jam skate are- Chicago bullet skates, Pacer, Sure-Grip, Riedell, VNLA. And for rhythm skating, Chicago Skates, Moxi Skates, Impala, etc are perfect. Gummy outdoor wheels, flexible wheels are not perfect for roller skating dancing.
What is roller skate dancing called?
Ans: Some people prefer to call the dances by their designated names, but in general, people call rollers skate dancing Artistic Roller skating.